Cosmetic Surgery for Men
Mar 18, 2022
With the recent advancements in technology, more and more men are stepping into the world of cosmetic surgery. Whether it's to increase their confidence or to help them advance in their careers, men are seeking cosmetic surgery in Roseville to achieve their aesthetic goals. In fact, a recent study by the American Society of Plastic Surgeons revealed that men are embracing the idea of cosmetic surgery more than before. With that in mind, here is an overview of the current trends in the world of male cosmetic surgery.
Non-Surgical Procedures
What once seemed like an industry that was more suited to women has now become a popular route for men who are looking for ways to look and feel young. There are a wide array of non-surgical procedures available for men, including injectable dermal fillers, laser hair removal, and so on.


DERMAL FILLERS
Through dermal fillers, patients can add fullness and volume to certain areas of the face like lips or cheeks. Unlike botox, this procedure does not restrict facial muscle movement and patients can usually return to their normal activities with zero downtime.
LASER HAIR REMOVAL
With laser hair removal procedures, men no longer have to worry about the continuous upkeep of unpleasant body hair and boost their overall confidence. A trained laser tech can precisely and painlessly remove even the finest areas of hair with a handheld laser device.
Surgical Procedures
Current media trends and societal pressures have placed a huge emphasis on men looking young and well-proportioned. From jaw implants to liposuction, the number of cosmetic surgery for men has become more accessible and is seen to continue to progress over time as the market develops.
JAW IMPLANT
In this era of social media and selfies, it's not surprising that more men are seeking jaw implants to accentuate their masculine features and to make the structure of their faces more prominent. Having a strong jaw is highly desirable among men since it is often associated with masculinity and having a well-proportioned side profile. The downtime for this surgical procedure is about one week, while the changes will begin to take place after two to three weeks.
LIPOSUCTION
Liposuction has been a go-to option for adult men when nothing seems to make those love handles go away completely. With the help of a high-pressure vacuum, undesirable deposits of body fat in specific parts of the body are permanently removed to enhance the shape and contour of the body. The benefits of liposuction for men extend to getting rid of excess fat in the abdomen, arms, legs, breast, and other areas of the body for a more toned physique.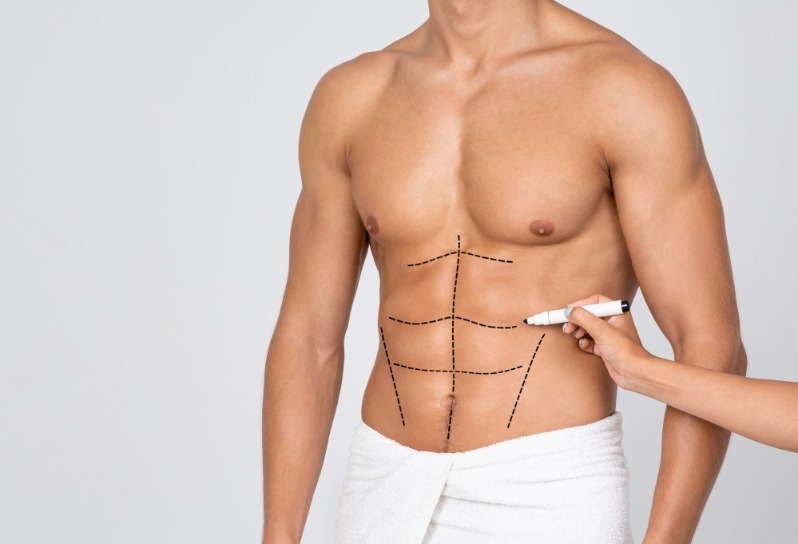 DADDY-DO-OVER PROCEDURE
A popular trend among men in their 30s and up, the "Daddy-Do-Over" consists of surgical and non-surgical facial procedures and body contouring to improve their look and fend off the "dad bod" for a while longer. It is also combined with other cosmetic surgery for men, such as abdominal liposuction, gynecomastia surgery, facelift, etc. into a single operation to get comprehensive results in a short period of time. This cosmetic surgery is becoming more and more common, with over 1.3 million procedures performed last year alone.